Linda Isabelle, North Shore Painter
Born in the small village of Pointe-Lebel, in the province of Quebec, Linda Isabelle is a self-taught Canadian painter who now lives in Forestville, on the North Shore. Her workshop is open year-round to the public.
Since its opening, the workshop has become a main tourist attraction in Forestville. Linda Isabelle is also proud of her involvement in the community especially her participation in educational activities in schools, in cities and in other organizations. Many of her paintings were donated to different institutions and charities.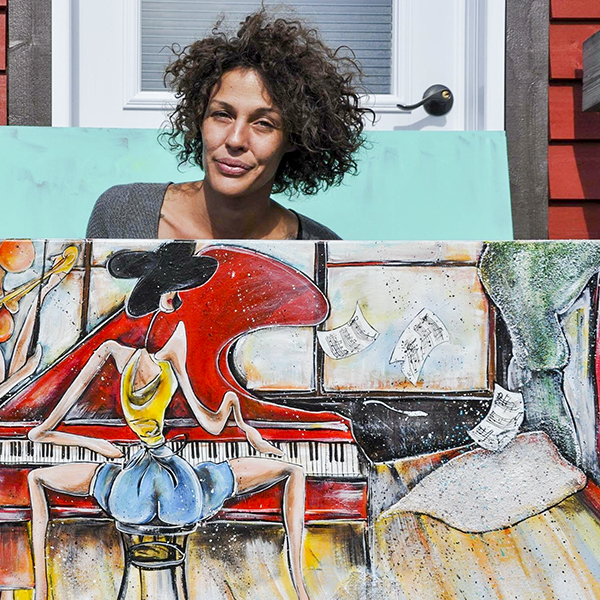 The Deep Love of a Public
Recipient of several People's Choice Awards (in French, "prix Coup de cœur du public") during cultural events (Lambton in 2015, Prévost in 2016, Château-Richer in 2016), Linda Isabelle has always been a great success amongst art lovers. She will in fact be the guest of honour at the 2018 Rendez-vous en Art (Artful Meetings) at the Académie.
Her following does not only include people in Quebec. Her presence online and on social media have allowed her to target a very vast market and to gain new clients around the world (Sydney, Australia; Marseilles, France; Venice, Italy; Tampa Bay, United States).
A Unique Artistic Style
Her art, which is represented in the form of playful characters by using pure and vivid colours, has given her the opportunity to turn an every day reality into its own happy and exaggerated universe. She uses humour, colours and curves to create her unique style.
More recently, Linda Isabelle has started to explore more mature themes. By putting nudity and sexuality at the forefront of her art collections "Les touts nus" (in English, "The Naked Ones") and "Musicale" ("Musical"), she shows that her vision of art and the world is constantly evolving.
Painting is a liberating need for the artist, a world into which she dives without any limitations to create her very own universe.